College/Universities Partner Membership
Membership Matters
AAUW has been transforming women's lives for more 140 years. And now that we've won the fight to give women equal access to education, we're taking on one of the most defining issues of our time: gender equity. But we can't do it alone.
Your AAUW membership will help close the gender pay gap by 2030, ensure schools and workplaces are free of discrimination and harassment, and create more opportunities for women to lead. It will also connect you to a powerful network of more than 170,000 women and men across the country who are as passionate as you are about building a fairer future — with a few other perks to boot. As a member, you will:
Make a Difference
By becoming a member, you're not only joining a community committed to our cause. You're also directly funding our work to:
Get Discounts and Services
AAUW members get great discounts and special services on insurance, hotels and travel, office supplies, email services and more, including:
| Insurance | Travel | Other Services |
| --- | --- | --- |
| GEICO | Hotel Engine | Office Depot |
| LTC Global | TNT/Fun Jet | Constant Contact |
| Nationwide Pet Insurance | Cruises Online | Free Rx Savings Card |
| Identity Theft Protection | Collette | UPS |
| | Hertz | |
| | Dollar and Thrifty | |
Receive Newsletters and Alerts
Stay informed and active through a host of digital resources and newsletters, including:
Mission & Action: Monthly updates on AAUW's work, including gender equity research, legislation, news, events and easy opportunities to take action.
Action Alerts: Periodic emails to alert you to breaking news and urgent opportunities to act on policies or legislation that affects women.
Membership Matters: A monthly resource for branch and state AAUW leaders on how to recruit and retain members, advance our mission and stay engaged with communities.
Shape the Future
As a member, each year you can weigh in on who will lead AAUW on its board of directors and decide which public policy issues should be our highest priority.
You can also become an AAUW leader by participating in one of the committees and task forces that move our agenda forward. Not to mention the many opportunities to play pivotal roles at the state or branch level, or as a student or emerging professional.
Join a Community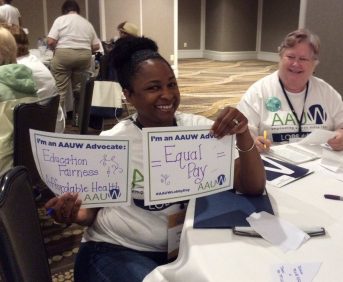 AAUW offers lots of opportunities to get involved with a local community of activists. By joining at the branch level, you can serve in leadership roles, sponsor community action projects, and lobby on priority issues like pay equity and Title IX reform.